Parish Office Hours
Monday – Friday 9:00 a.m. – 4:30 p.m.
1050 N. Keller Avenue, Amery, WI 54001
Phone: (715) 268-7717, Fax: (715) 268-9986
E-Mail: office@stjosephamery.org 
A Modern Church With A Traditional Message
St. Joseph Catholic Church is a vibrant Christian community that is
rooted in Tradition and growing in Faith.
Explore our website and discover the many ways its members are involved
in the liturgical life of the Parish.
Visitors are always welcome to attend our services!
Mission Statement
We the Roman Catholic Faith Community of St. Joseph Church in Amery, Wisconsin declare our parish mission is to know God, to love him and to serve Him in this world. We pursue this mission by celebrating the Eucharist and sharing our faith, love, time, talents, and treasures with our families, our communities and the world.
Meet the Staff
Father Gene Murphy
Father Gene was born in New York City, in the South Bronx, as the youngest of three. His parents immigrated from Ireland. Fr. Gene spent two years at St Patrick's in Hudson, where he started as Associate Pastor and then Parochial Administrator. He then spent two years in Ladysmith as Parochial Administrator at Our Lady of Sorrows. He has served as Pastor of St Joseph Catholic Church in Amery, WI and Our Lady of the Lakes in Balsam Lake, WI since 2014. Fr. Gene has the goal of making this cluster a vibrant and faith-filled community.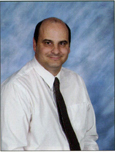 Deacon Larry Amell
Deacon Larry Amell grew up in Bloomington, MN, and is a diehard Vikings and Twins fan. He graduated from the University of Minnesota with a technical business degree, and while there met his wife, Jenny. They have three daughters, two grandsons, and one granddaughter. For the past 17 years Deacon Larry has worked at Saint Ambrose of Woodbury, MN as a Pastoral Minister. He was ordained a permanent deacon in 2009, serving the Somerset, East Farmington, and Osceola cluster. He was appointed to serve St Joseph and Our Lady of the Lakes in  2016.
Faith Formation
Faith Formation Coordinators: Marge Schone & Emily Dorsey
Office Staff
Bookkeeper/Comptroller: JoAnne Sabelko
Administrative Assistant II: Melissa Russo
Servant Leader: Nancy Kalista
Building and Grounds
Custodians: Mary Ann Larson, Dan Fleming, and Roger Waterman